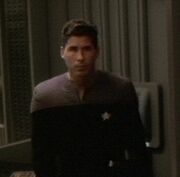 Lieutenant McConnell was a 24th century Starfleet security officer serving aboard the USS Honshu in 2374.
McConnell was on duty in the Honshu's brig on stardate 51408.6, when Benjamin Sisko visited Dukat, who was being held in one of its holding cells. When the Honshu was later attacked by a wing of Cardassian warships, McConnell assisted Dukat in carrying Sisko to safety.
McConnell was later killed en route to the shuttlebay by shrapnel from a plasma conduit explosion. (DS9: "Waltz")
Ad blocker interference detected!
Wikia is a free-to-use site that makes money from advertising. We have a modified experience for viewers using ad blockers

Wikia is not accessible if you've made further modifications. Remove the custom ad blocker rule(s) and the page will load as expected.