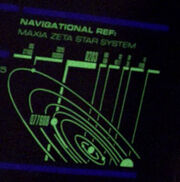 The Maxia Zeta system was an uninhabited planetary system. The system consisted of a primary and twelve planets. The planets Maxia Zeta III and Maxia Zeta IV, and its moons, were located in the system's habitable zone. The system was located at coordinates 16453/452.45.
On stardate 40217.3, in 2355, the USS Stargazer was on a routine survey mission to scan the planets in this system. Traveling at warp through the system, the Stargazer was ambushed by a Ferengi starship that was launched from one of the moons of Maxia Zeta IV. (TNG: "The Battle" display graphic)
The conflict, known later as the Battle of Maxia, became legendary among the students at Starfleet Academy for the tactic used by Captain Jean-Luc Picard in the defense of his ship and crew. (TNG: "The Battle")
In 2371, the location of Maxia Zeta was labeled in the star chart Data and Picard were studying in stellar cartography aboard the USS Enterprise-D. (Star Trek Generations, display graphic)
External links
Edit
Ad blocker interference detected!
Wikia is a free-to-use site that makes money from advertising. We have a modified experience for viewers using ad blockers

Wikia is not accessible if you've made further modifications. Remove the custom ad blocker rule(s) and the page will load as expected.