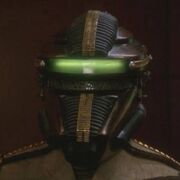 Max Omega is an actor who played Thot Pran in the Star Trek: Deep Space Nine episodes "Tacking Into the Wind", "The Dogs of War", and "What You Leave Behind". He received no on-screen credit for his appearances.
His costume was auctioned off at the 40 Years of Star Trek: The Collection auction in New York. It was item #464 and was sold for US$7,200.
The three appearances on Deep Space Nine are his only known screen work.