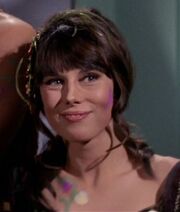 Mavig was one of the followers of Dr. Sevrin who, in 2269, briefly commandeered the USS Enterprise in their search for the mythical planet Eden.
A musician and singer, she played a wheel-shaped, harp-like instrument. (TOS: "The Way to Eden")
Mavig was played by Deborah Downey. Although credited only as "Girl #1", the name Mavig, which was not spoken on screen, was given in the script.