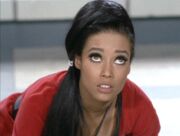 Maurishka Taliaferro is a model and occasional actress who appeared as Yeoman Zahra Jamal in the Original Series episode "Operation -- Annihilate!", credited only as Maurishka. She filmed her scenes on Wednesday 15 February 1967 on location at the TRW Space and Defense Park, Tuesday 14 February 1967, Thursday 16 February 1967 and Friday 17 February 1967 at Desilu Stage 9.
Taliaferro was an exotic and sought-after model in the 1960s, who used her success in modelling to get a role on Star Trek, of which she was a huge fan. [1]
She appeared in the 1970 film The Red, White and Black, featuring TOS stuntman Bobby Clark. She also appeared in the Elvis Presley feature Stay Away, Joe and in an uncredited role in the Fred Astaire film, Finian's Rainbow (in which Vince Howard also had an uncredited role), both in 1968. These are her only known motion picture credits.
External link
Edit
Ad blocker interference detected!
Wikia is a free-to-use site that makes money from advertising. We have a modified experience for viewers using ad blockers

Wikia is not accessible if you've made further modifications. Remove the custom ad blocker rule(s) and the page will load as expected.