Ad blocker interference detected!
Wikia is a free-to-use site that makes money from advertising. We have a modified experience for viewers using ad blockers

Wikia is not accessible if you've made further modifications. Remove the custom ad blocker rule(s) and the page will load as expected.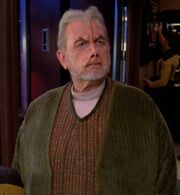 Maturin's species were a race of humanoids from the Alpha or Beta Quadrant. Their appearance was similar to Humans, except for an upturned nose which transitioned into a ridge extending to the forehead.
This species had encountered the Federation prior to 2370. One member of this species, Maturin, was governor of Caldos colony in 2370. (TNG: "Sub Rosa")