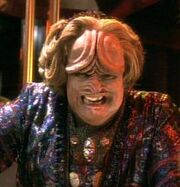 Matthew Kimbrough (born ca. 1952) played Okalar (credited as "Alien High Roller") in the Star Trek: Deep Space Nine episode "The Abandoned".
His first motion picture was the 1983 film Eddie Macon's Run, in which Mark Margolis also starred. Later in the 1980s he appeared in Beer, Biloxi Blues and Fletch Lives. In 1999, he appeared in The Limey with William Lucking. Also in that year, he starred in the acclaimed American Beauty with Scott Bakula. Continuing his record of starring in successful movies, in 2000 he starred in Erin Brockovich. In the 2001 movie Joy Ride he provided the brief physical appearance of the villain Rusty Nail, although actor Ted Levine did the voice. In 2002 he appeared in Steven Spielberg's Catch Me If You Can.
Kimbrough has also guest starred in Pitch, Mad Men and The Magnificent Seven.
External link
Edit
Ad blocker interference detected!
Wikia is a free-to-use site that makes money from advertising. We have a modified experience for viewers using ad blockers

Wikia is not accessible if you've made further modifications. Remove the custom ad blocker rule(s) and the page will load as expected.