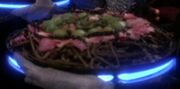 Matopin rock fungi were a type of edible fungus used in salads.
Matopic rock fungi, tossed on bed of tartoc and seasoned with Clavisoa berries, was one of the Regent of Palamar's favorite dishes. Quark served this dish at a business dinner for him in 2373. (DS9: "Business as Usual")
According to the script, this fungi's name was pronounced as " muh-TOE-pin".
[1]
External link
Edit
Ad blocker interference detected!
Wikia is a free-to-use site that makes money from advertising. We have a modified experience for viewers using ad blockers

Wikia is not accessible if you've made further modifications. Remove the custom ad blocker rule(s) and the page will load as expected.