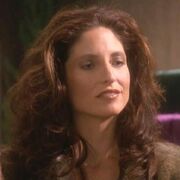 Marybeth Massett is an actress and producer who played the role of Parell in the Star Trek: Deep Space Nine episode "Children of Time". Born as Marybeth Cameron, she is married to actor and producer Patrick Massett who portrayed Duras in two episodes of Star Trek: The Next Generation.
Following her work on Deep Space Nine she had a recurring guest role as Haley Cayce in the adventure series Veritas: The Quest (2003-2004), produced and written by her husband. In 2009 she appeared in the short drama The Seer on which she also worked as producer. This short film was directed, written and produced by her husband. More recently, she portrayed Mrs. Cox in the drama The Social Network (2010, with Calvin Dean, Wallace Langham, Scott Lawrence, and Darin Cooper) and Gold.
External link
Edit
Ad blocker interference detected!
Wikia is a free-to-use site that makes money from advertising. We have a modified experience for viewers using ad blockers

Wikia is not accessible if you've made further modifications. Remove the custom ad blocker rule(s) and the page will load as expected.