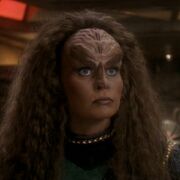 Mary Kay Adams (born 12 September 1962; age 54) played Grilka in the Star Trek: Deep Space Nine episodes "The House of Quark" and "Looking for par'Mach in All the Wrong Places". She is a descendant of US Presidents John Adams and John Quincy Adams.
Adams also auditioned for the role of Chalan Aroya. Adams also played the role of Na'Toth on Babylon 5 during that show's second season, taking over the role from fellow DS9 guest star Julie Caitlin Brown. Although she was listed in the show's opening credits for the entire season, she only appeared in two episodes. Mostly, she worked with Andreas Katsulas on the show.
Adams also guest starred in the Dark Skies episode "Moving Targets" with fellow Deep Space Nine guest stars Stephen James Carver, the late William Frankfather, and Leon Russom.
External links
Edit
Ad blocker interference detected!
Wikia is a free-to-use site that makes money from advertising. We have a modified experience for viewers using ad blockers

Wikia is not accessible if you've made further modifications. Remove the custom ad blocker rule(s) and the page will load as expected.