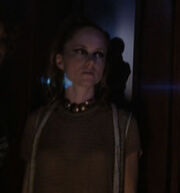 Mary Grace is an actress and model who had a featured part as a Shipyard Bar patron in 2009's Star Trek. As a background performer she received no credit for this role. She was also one of the make-up test models for the Orion characters for two days.
She was born in New Jersey and moved to Florida during high school. She graduated from high school with a BA in Organizational Behavior and attended a college in Florida where she also took acting lessons and was booked for her first two student films. She relocated in New York and later, since 2003, in Los Angeles.
Among her acting projects are the family movie The Marionette (2004), the short thriller Liar! (2004), the drama Lords of Dogtown (2005, with Matt Malloy and Charles Napier), the television comedy Christmas Do-Over (2006, with Adrienne Barbeau, Sonia Jo McDancer, Jack Axelrod, and Jim Jansen), the comedy Homo Erectus (2007), the television comedy Not Another High School Show (2007, with Andy Dick and Ethan Phillips), and the horror thriller Pathology (2008, with John de Lancie, Larry Drake, and Sam Witwer).
Television parts include episodes of Speaking of Women's Health, Entertainment Tonight (2006), Untold Stories of the ER (2006), as stand-in in the quiz show 1 vs. 100 (2006), as photo double in Rob Bowman's television drama Marlowe (2007, with Clayton Rohner, Michael Buchman Silver, Lisa LoCicero, Stephen Pisani, Mark Riccardi, Steve Rizzo, and stunt coordinator Dennis Madalone), and as photo double for AnnaLynne McCord in the horror thriller Day of the Dead (2008).
More recent projects are the drama Privileged (2009, with Brenda Strong and Jack Donner), the comedy Caravaggio: The Search (2010, with Nancy Guerriero), and as stand-in on the drama Burlesque (2010).
External links
Edit