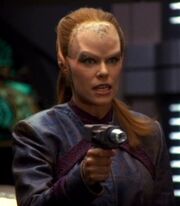 Mary Elizabeth McGlynn (born 16 October 1966; age 50) is the American actress who played the role of Daelen in VOY: "Vis à Vis".
She is well known as a talented voice actress, doing voices in a large number of animated films, television series and video games. In some of these productions, she also acted as the ADR director or voice director. She is probably best known, and won the 2007 American Anime Award for Best Female Voice Actress for, her portrayal of Major Motoko Kusanagi in Shirow Masamune's Ghost in the Shell anime series. She has lent her voice to a number of songs, mostly for video games including the Ace Combat and Silent Hill series.
She also appeared in an episode of Quantum Leap, starring Scott Bakula and Dean Stockwell.
External links
Edit
Ad blocker interference detected!
Wikia is a free-to-use site that makes money from advertising. We have a modified experience for viewers using ad blockers

Wikia is not accessible if you've made further modifications. Remove the custom ad blocker rule(s) and the page will load as expected.