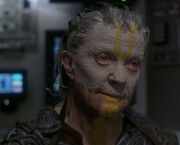 Mary Carver (born 3 May 1924; age 91) is an actress who appeared as Bernadette Fuller in the Star Trek: Enterprise episode "Terra Nova".
Primarily a television actress, Carver may be best known as playing Cecilia Simon, the mother to the title stars of the television series Simon & Simon from 1981 until 1989. In her early television career, she performed on such series as The Twilight Zone, Gunsmoke, and The Rockford Files.
Carver has also had roles in such films as Arachnophobia and Safe.
Filmography
External link