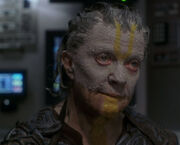 Mary Carver (3 May 1924 – 18 October 2013; age 89) is an actress who appeared as Bernadette Fuller in the Star Trek: Enterprise first season episode "Terra Nova".
Primarily a television actress, Carver may be best known as playing Cecilia Simon, the mother to the title stars of the television series Simon & Simon from 1981 until 1989. In her early television career, she performed on such series as The Twilight Zone, Gunsmoke, and The Rockford Files. Before 1970, Carver was married to Star Trek: The Original Series director Joseph Sargent. They had two daughters.
Carver has also had roles in such films as Arachnophobia (1990, with Brian McNamara and Roy Brocksmith) and Safe. She died on 18 October 2013 at the age of 89. [1]
External link
Edit
Ad blocker interference detected!
Wikia is a free-to-use site that makes money from advertising. We have a modified experience for viewers using ad blockers

Wikia is not accessible if you've made further modifications. Remove the custom ad blocker rule(s) and the page will load as expected.