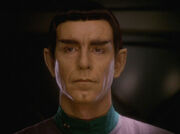 Marty Rackham played Chu'lak in the Star Trek: Deep Space Nine episode "Field of Fire". The character Doctor Martin Rackham, mentioned in a personnel file in that episode, was named after him.
He has appeared in many other popular television series such as Seinfeld, Murphy Brown, Everybody Loves Raymond, JAG, Sex and the City and NYPD Blue.
His motion picture credits include Body Trouble (1992, with Frank Gorshin) and Comedy Hell (2005).
External link
Edit