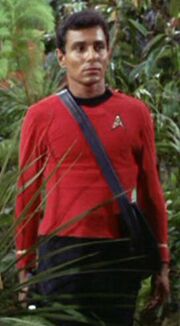 Lieutenant Marple was a 23rd century Starfleet security officer serving aboard the Federation starship USS Enterprise under Captain James T. Kirk.
In 2267, Marple was a member of nine-man landing party that participated in a survey mission of Gamma Trianguli VI. Marple was attacked, by the order of Vaal by one of the planet's native. Following the attack he was taken into one of the nearby huts. (TOS: "The Apple")
Marple was played by Jerry Daniels. It is not clear if Marple was killed, or merely injured in the attack. If indeed he was killed, he would have been the fourth redshirt killed in this episode.
External link