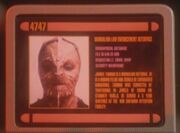 Markalian Law Enforcement was the law enforcement agency for the Markalians. This agency kept biographical files of criminals which were available upon request.
In 2372, Lieutenant Commander Worf requested the file of Regana Tosh. This file was sent to a security mainframe on Deep Space 9. (DS9: "Hippocratic Oath")
Ad blocker interference detected!
Wikia is a free-to-use site that makes money from advertising. We have a modified experience for viewers using ad blockers

Wikia is not accessible if you've made further modifications. Remove the custom ad blocker rule(s) and the page will load as expected.