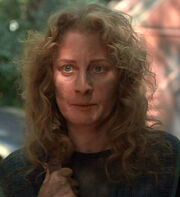 Marilyn Fox (also known as Mary Alice Fox) is the actress who played Marna in the Star Trek: Voyager episode "Nemesis".
Fox made her acting debut in the '60s, playing a patient in the The Many Loves of Dobie Gillis episode "A Funny Thing Happened to Me on the Way to a Funny Thing" (1962). She performed supporting roles in the films The Outlaws is Coming (1965, with Nancy Kovack and Rex Holman), The Girls of Huntington House (1973, with William Windom), Flight to Holocaust (1977), and I Wanna Hold Your Hand (1978, with Dick Miller).
After a break she appeared in the '90s on screen in the television series Partners (1995, episode Primo?, with Jeff Coopwood). Among her more recent projects are two episodes of Judging Amy (1999 episode "Crowded House", with Lawrence Pressman and 2001 episode "Grounded", with Karen Hensel, Sara Mornell, and Karl Wiedergott) and the short dramas Lives of the Pharaohs (2001) and The Heir Apparent (2005).
External link
Edit