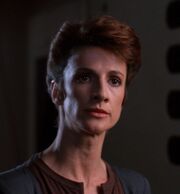 Marie Marshall is the actress who played the role of Kelsey on the Star Trek: The Next Generation sixth season episode "Starship Mine" in 1993.
Marshall had a recurring role in two episodes of Babylon 5 in 1995 and 1998 where she worked with Paul Winfield, David L. Crowley, Robert Rusler, Art Chudabala, Tracy Scoggins, Andreas Katsulas, Bill Blair, and Skip Stellrecht.
External links
Edit
Ad blocker interference detected!
Wikia is a free-to-use site that makes money from advertising. We have a modified experience for viewers using ad blockers

Wikia is not accessible if you've made further modifications. Remove the custom ad blocker rule(s) and the page will load as expected.