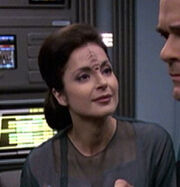 Marie Caldare is an actress who played Azen in the Star Trek: Voyager episode "Virtuoso". She was born in British Guyana and has dual American/Canadian citizenship. She studied in New York before moving to Los Angeles.
Caldare has guest-starred on such television series as Quantum Leap (starring Scott Bakula and Dean Stockwell), V.I.P. (with Lisa LoCicero, Derek Mears, Faith Minton, and Karen Sheperd), NYPD Blue (with Gordon Clapp and Richard Libertini), and One on One (with Ron Canada). She was most recently seen on What About Brian with Charles Emmett and Alex Nevil. This series was executive produced by J.J. Abrams and Bryan Burk and produced by Robert Duncan McNeill.
Caldare was one of the stars of the 1997 interactive movie Tender Loving Care. She has also appeared in feature films such as the 1998 thriller The Wonderful Ice Cream Suit (with Clifton Collins, Jr. and Gregory Sierra) and the 2005 romantic comedy In Her Shoes (with Norman Lloyd).
External links
Edit