Ad blocker interference detected!
Wikia is a free-to-use site that makes money from advertising. We have a modified experience for viewers using ad blockers

Wikia is not accessible if you've made further modifications. Remove the custom ad blocker rule(s) and the page will load as expected.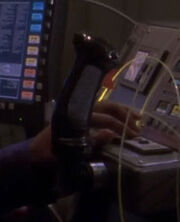 The manual steering column was a helm control option aboard some spacecraft that resembled a joystick. It was capable of providing fine piloting control in situations where the normal helm controls were not precise enough.
NX-class starships employed manual steering columns for performing exacting maneuvers. (ENT: "Breaking the Ice", "Minefield", "Singularity", "The Expanse")
The command area at the catwalk aboard Enterprise NX-01 was also equipped with a manuel steering colum. (ENT: "The Catwalk")
In 2154, Ensign Travis Mayweather used a manual-control joystick on Shuttlepod 1, which he referred to as "a stick and rudder system", during a covert visit to Vulcan. (ENT: "Awakening")
The term "manual-control joystick" comes from the script of "Awakening".
In 2233, Kelvin-type starships had a manual steering column in the right armrest of the command chair. (Star Trek)
In the alternate reality, Constitution-type escape pods were equipped with at least one manual steering column. (Star Trek)
The Sovereign-class USS Enterprise-E had a manual steering column that allowed the conn to manually control helm functions if the need arose. Commander Riker utilized the column when performing precise maneuvers inside the Briar Patch to collect metreon gas with the ship's ramscoops and subsequently release it in the vicinity of two Son'a battle cruisers. (Star Trek: Insurrection)
The Delta Flyer II used two manual steering columns in its helm configuration, which completely replaced the old LCARS controls that had been used on the original Delta Flyer. (VOY: "Drive")
External link
Edit