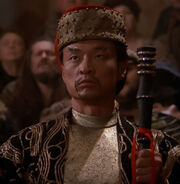 A Mandarin bailiff was a person who was occupied as a legal overseer.
The post-atomic horror court scenario created by Q in 2364 had a Mandarin bailiff overseeing the prisoners during their interrogation by Judge Q. (TNG: "Encounter at Farpoint")
The term Mandarin bailiff was not spoken out in the episode but Cary-Hiroyuki's character was listed as "Mandarin bailiff" in the end credits of the episode.
External link
Edit
Ad blocker interference detected!
Wikia is a free-to-use site that makes money from advertising. We have a modified experience for viewers using ad blockers

Wikia is not accessible if you've made further modifications. Remove the custom ad blocker rule(s) and the page will load as expected.