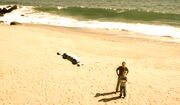 You may be looking for the comic publisher, Malibu Comics.
Malibu is a city in Los Angeles County, California which served as location for three scenes in the Star Trek: Enterprise pilot episode "Broken Bow".
The scenes were shot on 19 June 2001 and the call sheet has the note "Be prepared for weather, bugs, and sand". The first scene, scene 32, was the exterior classroom of Hoshi Sato and her students in a jungle like atmosphere which stood in for Brazil. The second scene, scene 33, includes a jungle path and a conversation between Scott Bakula and Linda Park.
The beach scenes in which Marty Davis and Mark Moses, and later also Jolene Blalock, participated were shot on a windy beach in Malibu. One of the first tasks of the day included to find a single tree on the windy beach which can be seen at the end of the episode. The scenes which were shot at the beach are scene 144 - 150 and 231.
Lisa White served as location manager for this location.
The Uxbridge house exteriors for the Star Trek: The Next Generation third season episode "The Survivors" were also shot in Malibu.
External links