Deletion
Deletion has been suggested for this page according to the deletion policy. In the normal day-to-day operations of Memory Alpha, some pages are deleted for various reasons. This deletion suggestion and reasoning can be discussed on: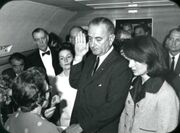 Malcolm Kilduff was a 20th century American who was an Associate Press Secretary.
On 22 November 1963, in the aftermath of John F. Kennedy's assassination, he recorded Lyndon B. Johnson taking the Presidential Oath of Office aboard Air Force One. (TOS-R: "The Cage")
The website jfklibary.org identified this individual in the photo.
External link
Edit