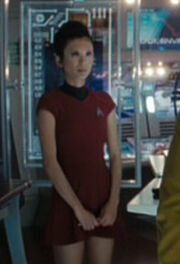 Makiko Konishi is an actress who portrayed a red-skirted Enterprise bridge crewmember in J.J. Abrams' Star Trek.
Konishi previously portrayed Princess Otsuru in the short action film Drunken Sword (2005) and Mari in the horror film Tales from the Dead (2008, with Yumi Mizui).
External link
Edit
Ad blocker interference detected!
Wikia is a free-to-use site that makes money from advertising. We have a modified experience for viewers using ad blockers

Wikia is not accessible if you've made further modifications. Remove the custom ad blocker rule(s) and the page will load as expected.