Welcome to Memory Alpha!
Memory Alpha is a collaborative project to create the most definitive, accurate, and accessible encyclopedia and reference for everything related to Star Trek. The English-language Memory Alpha started in November 2003, and currently consists of 41,435 articles. If this is your first visit, please read an introduction to Memory Alpha.
Featured article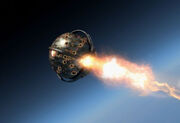 The Xindi incident or Xindi crisis was a series of events lasting nearly a year, from March 2153 to February 2154, involving the Enterprise NX-01's attempt to save Earth from destruction by the Xindi. It was a major turning point in the Temporal Cold War, and the incident also helped pave the way for the creation of the Coalition of Planets, a precursor to the Federation.
In March of 2153, acting on false intelligence provided by the Sphere-Builders, the Xindi launched a surprise attack on Earth. The Xindi, who had been without a homeworld since the 2030s, had been informed by their protectors that, in the 26th century, Humanity was going to destroy their new homeworld.
Because of this, the Xindi-Primate scientist (and Xindi Council member) Degra had been working for several years on a weapon capable of destroying Earth.
Editing Memory Alpha
| | | | |
| --- | --- | --- | --- |
| Basic information | About the encyclopedia | Writing articles | Works in progress |