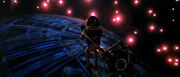 The machine planet was a planet located in an unknown area of space, home to a species of sentient machines. When the NASA Voyager 6 probe fell into a black hole in the early 21st century, it reemerged in this planet's system, and was repaired and extensively expanded by the machine race, becoming the V'ger artificial organism. (Star Trek: The Motion Picture)
Ad blocker interference detected!
Wikia is a free-to-use site that makes money from advertising. We have a modified experience for viewers using ad blockers

Wikia is not accessible if you've made further modifications. Remove the custom ad blocker rule(s) and the page will load as expected.