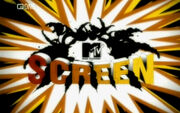 MTV Screen: Star Trek: Making The Movie was a 21-minute documentary and was broadcast as part of the British MTV One channel's MTV Screen television series. It aired in 2009.
The documentary featured clips from the 2009 Star Trek film interweaved with behind-the-scenes footage shot on set. New interviews were conducted with Chris Pine, Zachary Quinto, Zoe Saldana, J.J. Abrams, and John Cho.
Ad blocker interference detected!
Wikia is a free-to-use site that makes money from advertising. We have a modified experience for viewers using ad blockers

Wikia is not accessible if you've made further modifications. Remove the custom ad blocker rule(s) and the page will load as expected.