Ad blocker interference detected!
Wikia is a free-to-use site that makes money from advertising. We have a modified experience for viewers using ad blockers

Wikia is not accessible if you've made further modifications. Remove the custom ad blocker rule(s) and the page will load as expected.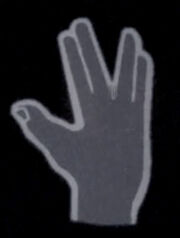 M-9 was a designation of gestural language learned by Lieutenant Commander Data in his attempt to communicate with Riva, a deaf mediator from Ramatis III. M-9 was a final candidate in Data's search to identify a particular language Riva was using. As such, Data viewed multiple M-9 gestures on a screen.
One of the gestures of the M-9 sign language was similar to the Vulcan salute. (TNG: "Loud As A Whisper")