For the salt vampire's homeworld, please see M-113.
M-11 was an inhabited world located in Federation space and was the home of Starbase 11 during the mid-23rd century. M-11 was located at a distance of six days travel at maximum warp from the Talos star group.
The world was illuminated by at least one sun, and located very close to several other bodies, including a large world with imposing ring system which dominated its sky. It had a breathable atmosphere, but little to no life was in evidence, at least not outside the starbase.
The USS Enterprise visited M-11 on two occasions in 2267, once on stardate 2947.3 and again on stardate 3012.4. (TOS: "Court Martial", "The Menagerie, Part I")
Background information
Edit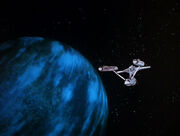 Despite appearing in two episodes, this planet is not named on-screen in canon Star Trek. The planet was identified as "M-11" in the script for "The Menagerie", where originally the starbase was called "Starbase M-11". The name was evidently carried over from "Court Martial", which features an establishment there named the M-11 Starbase Club.
Judging by on-screen evidence only, it seemed quite plausible that the starbase was on a moon of a larger, ringed planet, visible in the sky in "The Menagerie". However, the scripts of "Court Martial" and "The Menagerie" described this world itself as a planet. In the revised final draft script of "Court Martial", a "special note" at the start of the script stated, "All Planet Locations – though not presently indicated in body of script – are NIGHT." Furthermore, the script of "The Menagerie" characterized M-11 as a "dead world" with weird and desolate purple landscape.
The surface of the planet was depicted with a matte painting, which was created by Matte Artist Albert Whitlock. He painted the image with oils on Masonite. (Star Trek: The Original Series 365, p. 089)
According to Star Trek: Star Charts ("United Federation of Planets III") and Stellar Cartography: The Starfleet Reference Library ("Federation Historical Highlights, 2161-2385"), this outpost was located in the Alpha Quadrant.
Ad blocker interference detected!
Wikia is a free-to-use site that makes money from advertising. We have a modified experience for viewers using ad blockers

Wikia is not accessible if you've made further modifications. Remove the custom ad blocker rule(s) and the page will load as expected.