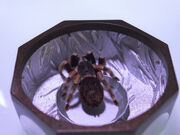 Lycosa tarantula was the scientific name for a species of spider that originated from Spain on Earth. Some were known to be kept as pets. At some point, a number of tarantulas of this type were taken to the planet Titus IV.
Miles O'Brien kept a tarantula named "Christina" as a pet in the early 2360s while he served aboard the USS Enterprise-D. Though Chief O'Brien was once afraid of spiders, he took her in as a pet after almost stepping on her on Titus IV. He once showed Christina to Lieutenant Barclay, who wasn't particularly fond of it. (TNG: "Realm of Fear")
The spider shown in the episode is not in fact a
Lycosa tarantula
, but a Brachypelma hamorii, a species of true tarantula from Mexico. Lycosas are wolf spiders, and not actually tarantulas. Tarantulas fall into the family
Theraphosidae
.
External link
Edit