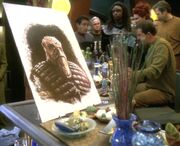 A Lurian funeral traditionally includes gifts of food and drink for the deceased so they will have something to sustain them in the afterlife.
In 2374, a funeral service for the Lurian Morn was held in Quark's Bar aboard Deep Space 9. The event was premature as his supposed death in an ion storm was revealed to be a hoax. (DS9: "Who Mourns for Morn?")
Ad blocker interference detected!
Wikia is a free-to-use site that makes money from advertising. We have a modified experience for viewers using ad blockers

Wikia is not accessible if you've made further modifications. Remove the custom ad blocker rule(s) and the page will load as expected.