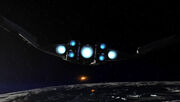 The Lunar colonies were, along with Utopia Planitia on Mars and a few asteroid colonies, the first attempts by Humans at colonizing space. The first of these colonies were founded in the mid-21st century on Earth's moon, Luna.
In the mirror universe the Lunar colonies were bombarded by an Emmette-type starship sometime before the NX-class of starships came into use. (Opening credits, ENT: "In a Mirror, Darkly", "In a Mirror, Darkly, Part II")
The Lunar colonies were also prominently featured in the regular opening titles for
Star Trek: Enterprise
.
In the 22nd century, Lunar One Colony was the largest of all Lunar colonies. The Orpheus Mining colony was another settlement on Luna during the 22nd century. (ENT: "Zero Hour", "Demons")
By 2373, the population was approximately fifty million. (Star Trek: First Contact)
Among the Humans born on the Lunar colonies were Beverly Crusher and Dorian Collins. (TNG: "Conundrum"; DS9: "Valiant"). People born or living on the Lunar colonies were often called Lunar schooners by Earth-based Humans. (DS9: "Valiant")