Ad blocker interference detected!
Wikia is a free-to-use site that makes money from advertising. We have a modified experience for viewers using ad blockers

Wikia is not accessible if you've made further modifications. Remove the custom ad blocker rule(s) and the page will load as expected.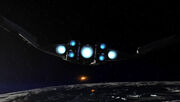 The Lunar colonies were, along with Utopia Planitia on Mars and a few asteroid colonies, the first attempts by Humans at colonizing space. The first of these colonies were founded in the mid-21st century on Earth's moon, Luna.
In the mirror universe the Lunar colonies were bombarded by an Emmette-type starship sometime before the NX-class of starships came into use. (Opening credits, ENT: "In a Mirror, Darkly", "In a Mirror, Darkly, Part II")
The Lunar colonies were also prominently featured in the regular opening titles for
Star Trek: Enterprise
.
In the 22nd century, Lunar One Colony was the largest of all Lunar colonies. The Orpheus Mining colony was another settlement on Luna during the 22nd century. (ENT: "Zero Hour", "Demons")
By 2373, the population was approximately fifty million. (Star Trek: First Contact)
Among the Humans born on the Lunar colonies were Beverly Crusher and Dorian Collins. (TNG: "Conundrum"; DS9: "Valiant"). People born or living on the Lunar colonies were often called Lunar schooners by Earth-based Humans. (DS9: "Valiant")