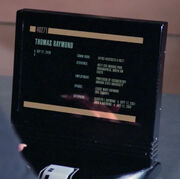 Louise Cara Raymond (nee Conway) was the wife of exobiology professor Thomas Raymond.
Together with their two children, Darrell Oja Raymond and Mary Catherine Raymond, they lived at 4877-334 Indiana Park, Indianapolis, North America, Earth in 2364. (TNG: "The Neutral Zone")
In the remastered version of the episode, Louise's middle name is given as Mary.