Ad blocker interference detected!
Wikia is a free-to-use site that makes money from advertising. We have a modified experience for viewers using ad blockers

Wikia is not accessible if you've made further modifications. Remove the custom ad blocker rule(s) and the page will load as expected.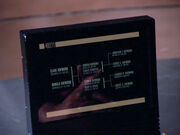 Los Angeles was a city on the Pacific coast of the North American continent. This southern California city was headed by a mayor. Enforcement of local city ordinances was handled by the Los Angeles Police Department. The city had its own seal, which was seen on police cruisers and official city government papers. (VOY: "Future's End", "Future's End, Part II")
In 1989, Ginger Summers, the future wife of Edward Raymond, was born in this city. (TNG-R: "The Neutral Zone", okudagram)
In the 1990s, Reuben Lara was the mayor of Los Angeles. (VOY: "Future's End", set artwork)
In 1996, the headquarters of Chronowerx Industries were located in Los Angeles. Tuvok commented that the thermal and ultraviolet radiation in California, where the city was located, were at hazardous levels.
After the Hermosa Earthquake of 2047, the entire region sank beneath the water, eventually becoming home to one of Earth's largest coral reefs hosting thousands of different marine species. (VOY: "Future's End", "Future's End, Part II")
See also
Edit
External links
Edit