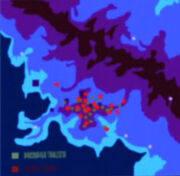 The Lornak (also known as the House of Lornak) was one of the historical clans of Acamar III. In 2286, the Lornak participated in the Tralesta Massacre, which eradicated members of a rival clan, the Tralesta, killing all but five members.
Yuta, the chosen surviving Tralesta, made it her mission in life to kill all of the Lornak. She nearly accomplished this in 2366 when she attacked Chorgan, the last living member of the Lornak clan, during negotiations between him and Sovereign Marouk. (TNG: "The Vengeance Factor", okudagram)
Ad blocker interference detected!
Wikia is a free-to-use site that makes money from advertising. We have a modified experience for viewers using ad blockers

Wikia is not accessible if you've made further modifications. Remove the custom ad blocker rule(s) and the page will load as expected.