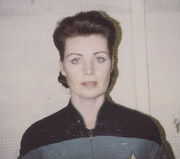 Lorine Mendell portrayed the recurring background character Diana Giddings during the run of Star Trek: The Next Generation. She also served as main stand-in and photo double for actress Gates McFadden on The Next Generation and the seventh feature film Star Trek Generations. Mendell received no on-screen credits for her appearances. A science division Starfleet jumpsuit worn by her was once sold on the web. [1]
For some unknown reason, Mendell was wearing a brown wig during her brief appearance in sickbay in the fifth season episode "The Next Phase".
In addition, Mendell worked as stand-in for the following guest stars:
Beside her work on Star Trek, Mendell was featured as "Woman #2" in the 1989 Hunter episode "Return of White Cloud" which also featured Charles Hallahan, Frank Salsedo, Bruce Davison, and James Whitmore, Jr..
Star Trek appearances
Appearances as Diana Giddings
External link