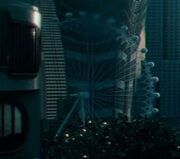 The London Eye was a London attraction in the alternate reality.
A prominent landmark, it was visible from the apartment of Thomas and Rima Harewood across the river, and from the Kelvin Memorial Archive in 2259. (Star Trek Into Darkness)
External link
Edit
Ad blocker interference detected!
Wikia is a free-to-use site that makes money from advertising. We have a modified experience for viewers using ad blockers

Wikia is not accessible if you've made further modifications. Remove the custom ad blocker rule(s) and the page will load as expected.