Ad blocker interference detected!
Wikia is a free-to-use site that makes money from advertising. We have a modified experience for viewers using ad blockers

Wikia is not accessible if you've made further modifications. Remove the custom ad blocker rule(s) and the page will load as expected.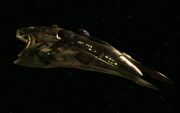 A Lokirrim patrol ship was a medium-sized craft used by the Lokirrim to search their space for "photonic insurgents", or holograms.
One Lokirrim patrol ship, under the command of Captain Ranek, took the Delta Flyer II into custody when they detected The Doctor's program. (VOY: "Body and Soul")