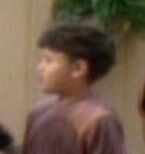 Lito was an inhabitant of Meridian.
When the crew of the USS Defiant visited the planet in 2371 Lito was playing a ballgame called vajhaq with some other Meridian children. He asked Commander Benjamin Sisko if he wanted to join them in the game, but Sisko declined.
He was, like all other Meridians, both a corporeal and a non-corporeal being. The planet Meridian shifted between our universe and a universe of pure energy. Lito and the rest of the inhabitants appeared for only twelve days in corporeal form and spent sixty years in non-corporeal form. With the help of Dax, the period of time was extended to thirty years starting with their next shift. (DS9: "Meridian")
Lito was played by Mark Humphrey.