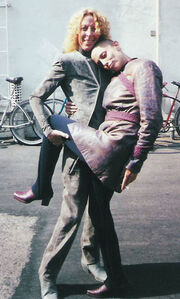 Lisa Vanasco is an actress who appeared in several episodes of Star Trek: Voyager as a background actress. She received no credit for her appearances. Her costume from the final episode "Endgame" was sold off on the It's A Wrap! sale and auction on eBay, where her name was misspelled as Lisa Varasco on the name tag. [1]
Early in her career she went by the name Lisa Cintrice, where she appeared in a handful of adult men's magazines and porn films, including, The Starmaker (1982) and Debbie Does Dallas Part 2 (1981). [2]
Vanasco later appeared as a topless ticket taker in Joel Schumacher's thriller 8MM (1999, with Fran Bennett and Bob Clendenin) and as a time traveler in the short drama Dionysus Lost (2000).

Uncredited Star Trek appearances Edit
External link
Edit
Ad blocker interference detected!
Wikia is a free-to-use site that makes money from advertising. We have a modified experience for viewers using ad blockers

Wikia is not accessible if you've made further modifications. Remove the custom ad blocker rule(s) and the page will load as expected.