Ad blocker interference detected!
Wikia is a free-to-use site that makes money from advertising. We have a modified experience for viewers using ad blockers

Wikia is not accessible if you've made further modifications. Remove the custom ad blocker rule(s) and the page will load as expected.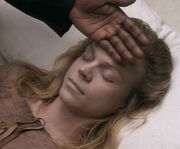 Lisa Madigan is an actress who played the colonist Meg in the Star Trek: Deep Space Nine episode "Paradise". She received no credit for her appearance and was identified by the name tag of her costume which was sold off on It's A Wrap! sale and auction on eBay. [1]
Her only other known acting credit was the film The Boy Scout (2002) for which she also worked as a caterer and co-producer.
External link
Edit