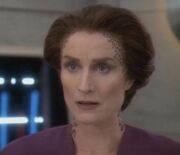 Lisa Banes (born 9 July 1955; age 60) is an actress who played Dr. Renhol in the Star Trek: Deep Space Nine "Equilibrium".
She has made guest appearances in many other popular television shows, including "Spenser: For Hire" (starring Avery Brooks), "Murder, She Wrote", "Frasier" (starring Kelsey Grammer) and "Six Feet Under."
Her motion picture credits include Young Guns (1988), Without Limits (1998), Pumpkin (2002) and Dragonfly (2002). Other Star Trek stars to appear in that movie include Susanna Thompson, Casey Biggs and Leslie Hope.
External links