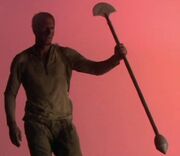 The lirpa was a traditional Vulcan melee weapon, consisting of a metal staff with a fan-shaped blade on one end and a club on the other. The haft below the shaped blade had some Vulcan lettering on it.
In 2154, the Vulcan commandos sent by the Vulcan High Command after Jonathan Archer and T'Pol wielded lirpas, since energy weapons were useless in Vulcan's Forge. Archer disarmed one of them and was very familiar with the use of this weapon because of his mind meld with Syrran. (ENT: "Kir'Shara")
It was used by combatants in the kal-if-fee, the traditional mating challenge during the pon farr. (TOS: "Amok Time")
Ad blocker interference detected!
Wikia is a free-to-use site that makes money from advertising. We have a modified experience for viewers using ad blockers

Wikia is not accessible if you've made further modifications. Remove the custom ad blocker rule(s) and the page will load as expected.