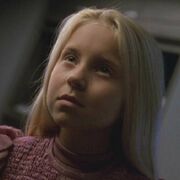 Lindsay Elizabeth Ridgeway (born 22 June 1985; age 30) is the young actress who portrayed Suspiria in VOY: "Cold Fire".
She is most recognizable as the second actress to portray Morgan Matthews on the ABC sitcom Boy Meets World. (Fellow Voyager guest stars Michael McKean and Mark Harelik guest-starred on Boy Meets World as well.)
Ridgeway was the singing voice of "Darla Dimple," the villain in the 1997 animated film Cats Don't Dance (with Scott Bakula, Frank Welker, John Rhys-Davies, and Rene Auberjonois).
External links