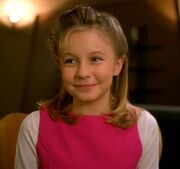 Lindsey Haun (born 21 November 1984; age 32) played the character of Beatrice Burleigh in the Star Trek: Voyager episodes "Learning Curve" and "Persistence of Vision". She later played Belle in the Voyager episode "Real Life".
Haun also co-starred in the much-lauded 2000 made-for-television docu-drama The Color of Friendship (with Penny Johnson). She appeared as Sookie Stackhouse's cousin Hadley in the 2008-2014 HBO series True Blood.
External links
Edit
Ad blocker interference detected!
Wikia is a free-to-use site that makes money from advertising. We have a modified experience for viewers using ad blockers

Wikia is not accessible if you've made further modifications. Remove the custom ad blocker rule(s) and the page will load as expected.