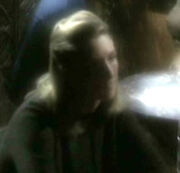 Linda Lane is an actress who appeared as a bar patron in the Star Trek: Enterprise episode "Fusion". As a background performer she received no credit for this appearance and was identified by the call sheet of the shooting day. Lane filmed her scenes on 14 December 2001 on Paramount Stage 8 with fellow background actors Michael Braveheart and Josh Sher, Jolene Blalock, and Enrique Murciano.
Ad blocker interference detected!
Wikia is a free-to-use site that makes money from advertising. We have a modified experience for viewers using ad blockers

Wikia is not accessible if you've made further modifications. Remove the custom ad blocker rule(s) and the page will load as expected.