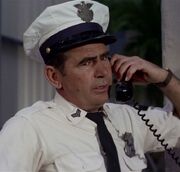 Lincoln Demyan (12 February 1925 – 6 October 1991; age 66) played Sergeant Lipton in the Star Trek: The Original Series episode "Assignment: Earth".
He was a regular guest star on a number of television shows, and made appearances in Bonanza (with Bob Miles and Anthony Call) and The Invaders (1968, with Stewart Moss, Peter Mark Richman, and Susan Oliver).
He was born in West Virginia, and died at the age of 66 in California.
External link
Edit
Ad blocker interference detected!
Wikia is a free-to-use site that makes money from advertising. We have a modified experience for viewers using ad blockers

Wikia is not accessible if you've made further modifications. Remove the custom ad blocker rule(s) and the page will load as expected.