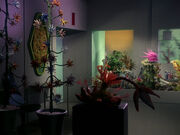 The Life Sciences Department was a section aboard Constitution-class starships that was responsible for all biological study.
In 2265, Doctor Mark Piper was the head of the USS Enterprise's life sciences department. (TOS: "Where No Man Has Gone Before")
In 2267, Captain James T. Kirk asked both the medical and life sciences departments to investigate the Denevan neural parasite. (TOS: "Operation -- Annihilate!")
This would seem to suggest that the life sciences and medical departments could operate separately from one another.