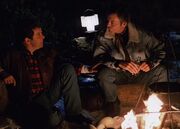 Levi's were a brand of jeans.
While going camping during shore leave on Earth in 2287, several of the crew of the USS Enterprise-A wore Levi's. (Star Trek V: The Final Frontier)
The use of the pants was an instance of product placement. According to one promotional article, director William Shatner decided that since Levi's jeans had remained virtually unchanged for the 135 years they were in existence, and therefore they'd be around three hundred years from now.
[1]
Levi Strauss & Co. is mentioned as having supplied denim and casual clothing in the credits.
External link
Edit
Ad blocker interference detected!
Wikia is a free-to-use site that makes money from advertising. We have a modified experience for viewers using ad blockers

Wikia is not accessible if you've made further modifications. Remove the custom ad blocker rule(s) and the page will load as expected.